The University
The Italian University system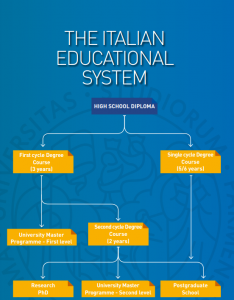 The Italian university system is divided into 3 cycles: first cycle degree courses (three years), second cycle degree course (two years) or University Master programme (first level) and third cycle: Research PHD, Postgraduate school, University Master Programme (second level).
For each course a number of university credits is reached. Each credit covers approximatively 25 study hours. CFU are the equivalents of ECTS.
For further information on Italian university system, please visit:
– http://attiministeriali.miur.it/media/211291/il_sistema_universitario_italiano.pdf
– Studenti stranieri – MIUR (Ministero Italiano dell'Istruzione, dell'Università e della Ricerca)

The University of Parma
The University of Parma, which boasts a thousand years of history and is one of the most important universities in Europe, has always been able to continuously renew itself.
It has now about 27,000 students and 1,700 professors, researchers and administrative staff. Its rich course catalogue is made up of 40 First Cycle Degree Courses, 46 Second Cycle Degree Courses (7 of which entirely held in English) and 6 Single Cycle Degree Courses organized into 9 Departments.
Discover more on the University of Parma at: https://en.unipr.it/studying.
Mission
The University of Parma promotes research, knowledge creation and progress. Responding to students' needs are among its core values and all its activities are aimed at guiding and encouraging all students toward personal, intellectual and professional growth.
Usually international
More than 650 students leave the University every year to study abroad, and about more than 600 come to Parma from foreign countries. Scholarships and international exchange programmes are available to all students, to give their courses an international attitude.
Research
The University of Parma boasts top-level scientific research: outstanding results of research teams, articles on the main international scientific journals and a number of successful partnerships with other important universities are just some examples of such high quality.
Our research teams excel in a number of fields: from food and agriculture to biotechnologies, from innovative treatment to experimental, law, economics and arts.
The University of Parma on social media
The University of Parma has set up different profiles on the main social media in order to interact with students and the public and provide useful information. Up-to date news and notices regarding events and initiatives are posted regularly.